<--DOMŮ-------------------------------------------------------------------------DOBRÉ VÝSLEDKY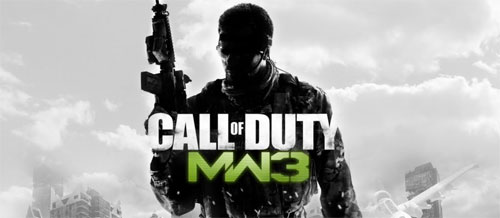 Call of Duty: Modern Warfare 3 is being developed by Infinity Ward and assisted by Raven Software and Sledgehammer Games; Raven Software will be co-working on the multiplayer. Modern Warfare 3 (abbreviated as MW3) runs at 60 FPS to give it a competitive edge. MW3 will be the first Call of Duty game to have built-in support for color-blind gamers. On the singleplayer side, MW3 will immediately follow the events of Call of Duty: Modern Warfare 2.

Most of the Modern Warfare 3 multiplayer perks will be new, but some old favourites are still in. Overpowered perks, such as the Commando and Last Stand are removed from the mw3 perks due to balance issues. Familiar weapons from both Modern Warfare 2 and Black Ops are to make a comeback in the mw3 weapons arsenal; the weapons have been completely re-designed and balanced for multiplayer.

MW3's multiplayer will not be relying that much on killstreaks and focuses more on fast-paced, gun-on-gun gameplay. Compared to previous Call of Duty games, the mw3 killstreaks system has been completely revamped. The game should also feature a total of 20 new multiplayer maps, but it's expected that some of the mw3 multiplayer maps might be left out of the final version and sold later in map packs.

Call of Duty: Modern Warfare 3 (MW3) will be released on 8th of November, 2011.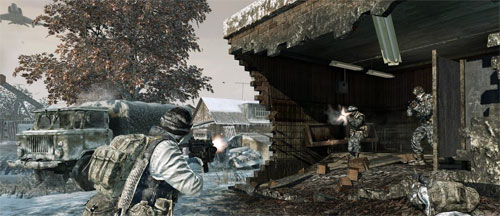 The Escalation map pack features four all-new multiplayer maps and one new zombie map. It's out on Xbox 360, PS3 and PC; it costs 1200 Microsoft Points, which is about $15.

Convoy
The Convoy multiplayer map delivers intense, close-quarters combat at the scene of an ambushed US military convoy somewhere in California.

Hotel
Takes place on the roof of a Cuban luxury hotel and casino. The map has three usable elevators that move between two floors. There are a lot of large open areas, but also smaller rooms and staircases, which promotes camping.

Stockpile
Stockpile is located in a suburban village housing secret WMD facilities. There is a building with two large steel doors that can be opened and closed with switches.

Zoo
Medium sized map in an abandoned Soviet Russian Zoo, with danger at every turn.

Call of the Dead
Large zombie map set in a mysterious ice-covered remote Siberian island, with multiple areas.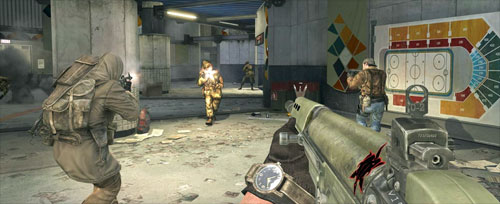 The First Strike map pack is now available for all three formats: Xbox 360 (Xbox LIVE), PlayStation 3 (PSN) and PC (Steam). It costs 1200 MS Points / $15.

The First Strike includes four new multiplayer maps and one new zombie map:

Berlin Wall
A medium-large map set around Check-Point Charlie in Berlin during the Cold War. There are automatic turrets that fire anyone that dares to go near them. This multiplayer map is ideal for snipers and campers.

Discovery
Takes place in an abandoned German outpost set along the coast of Antarctica. The map has close-range and long-range firefights.

Kowloon
The map is located in the city of Kowloon, Hong Kong; the map is suited for all types of combat. There are two zip-lines in the map that can be used to travel from one side to the other.

Stadium
Takes place in a sports complex called Chance Stadium. The map delivers fast-paced, close-quarters combat with light cover everywhere.

Ascension
The map is located in an abandoned Soviet Cosmodrome, where players will fight against hoards of vicious, perk-stealing zombie monkeys, flesh-eating Soviet zombies and more! The objective is to survive for as long as possible against limitless waves of zombies.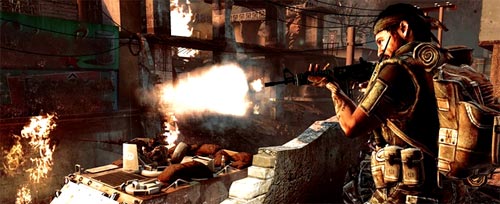 Activision has announced that Call of Duty: Black Ops has grossed $650 million within its first five days on sale worldwide. This beats last years Modern Warfare 2 by over $100 million. Call of Duty has become the first entertainment property in history to set five-day launch records for two consecutive years across all forms of entertainment, and is expected to rise to three consecutive years after Call of Duty: MW3 is released.

Over 2.6 million unique gamers logged 5.9 million multiplayer hours on Xbox LIVE on 9th of November. The game was also a tremendous success on the PlayStation 3.

Black Ops has also set new sales records in the United Kingdom; Two million copies of the game were sold in five days, beating the previous record holder, Modern Warfare 2, by over 10 percent. The Xbox 360 was the best selling version of Call of Duty: Black Ops in the game's opening week. Out of the 2 million sold copies in the UK, 55 percent were Xbox 360 versions and 42 percent PlayStation 3. The PC, DS and Wii versions took the remaining 3 percent.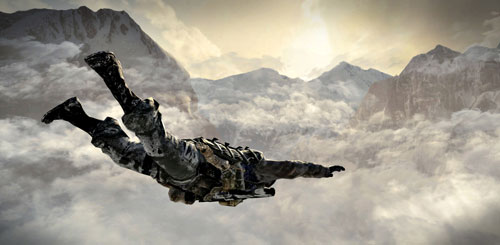 Call of Duty: Black Ops has become the biggest entertainment launch ever by selling over 5.6 million copies in 24 hours. The sales numbers are from North America and the United Kingdom alone and beat Modern Warfare 2's last years record of 4.7 million sold copies. The game generated over $360 million, which is $50 million more what Modern Warfare 2 did in the same time period last year.

Call of Duty: Black Ops is one of the most critically acclaimed games of the year worldwide. The game logged over 1 million Xbox LIVE users during its first few hours online. Those are just Xbox 360 numbers and don't include the PlayStation 3 and PC gamers. It's expected that Modern Warfare 3 will double the record number in 2011.